We keep wondering how this:
Is going to turn into this:
Well, maybe not that dramatic, but that's how it feels when we look at our concrete block walls, open ceiling joists with pipes and wires running everywhere, low ceilings, and a general lack of light.
Our hope, fingers crossed, is that our finished basement will look more like a home than a cave. One of the best ways to make a small dark basement feel like a warm living space is with lighting. The best kind of light is often the most elusive in a basement. There's something about natural sun light that looks and feels like home. But how do you get natural light in a space that's below ground?
Make bigger windows
That might seem obvious but it's also intimidating to think about cutting a bigger hole in your foundation. If there's no way out of the basement besides the stairs you'll want an egress window for safety reasons. If you plan on making a basement bedroom, an egress window is required by code. It's also a great excuse to let in more natural light! We are lucky that the previous owners had already installed an egress window in the bedroom.
I wouldn't have believed how much light it lets in! Here's what it looks like with just sunlight in the bedroom, and this is even with black out curtains surrounding the window! Can we have more of this please?
Because we want more light in the living area of the basement (see this post for a proposed floor plan), we want to expand our 20"x36" living room window to a larger one pierce the dark basement even more. We don't want to put an egress window in the living area because that wall faces the sidewalk and we're worried a big glass window would be too temping for potential burglars who can see our TV through the window. We discovered a more secure but light giving option - glass block. Glass block is really strong but also lets light in and, depending on the design, can vent fresh air. So now we are debating installing a 24"x48" glass block window in our living room.

We're a little worried the glass block will look like it's rocking the 80's though. So we're on a search to find some classy block window inspiration and crunching the numbers for how much said window might cost. We're also a bit nervous about cutting a hole in the concrete wall, so give us your advice and design suggestions as we tackle this light dilema!
Open up the space to allow the light to shine
Aside from adding more windows, it's also important to really make the most of every window we already have in the basement. Here's our floor plan again, you can see the windows drawn as darker rectangles along the outside wall, as well as a big gap in the outer bedroom wall since the egress window is so big.
Notice how 4 of our 6 windows are in the laundry room and work room? Those rooms are gross and loud so we're going to keep the doors shut most of the time. That means over half the natural light in our basement is behind closed doors! No good. But then we saw this bathroom picture from rambling renovators:
Doors with windows! Why didn't we think of that? If we put frosted glass on the laundry and work room doors, the light can shine through but we won't have to see the room when the doors are closed. It sounds like Rambling Renovators had this door custom made but our basement budget doesn't have room for that so we're looking for a cheaper, more DIY option to have glass cutouts in some of our basement doors. We plan to search for some salvaged doors, measure our own old doors sitting in the garage attic (as soon as it gets warmer out), and investigate the possibilities of cutting and reframing with glass at our local hardware store.
We also wanted to really maximize the light coming from the bedroom window. At first we were going to put a normal door between the game room and bedroom but the more we thought about it the more we wanted a big opening so the light can come through. We thought about french doors but they're expensive and take up a lot of wall space when they're open - and we don't have a lot of wall space! We racked our brains and eventually landed on double pocket doors. When they're open they make a 6 foot opening without taking up any wall space, but they can still close easily (and lock) for guests who want some privacy. We actually have a pocket door dividing our master bedroom and bathroom (80's addition to the home) and know of many older homes that have pocket doors in the dining rooom so we're excited to add more cohesion to our house while maintaining a sense of history.
Reflect
A third way we plan to make our basement less cave-like is by taking that precious natural light from our above ideas and bouncing it around as much as possible! Bounce how? With mirrors! Not necessarily the floor the ceiling mirrors you find in Florida time shares, but decorative mirrors. Maybe something like the one The Lettered Cottage built as a Pottery Barn replica. We have three old windows from a friend that we haven't yet done anything with so it's very possible that if they don't have a spot by next fall, they'll be turned into mirrors for the basement!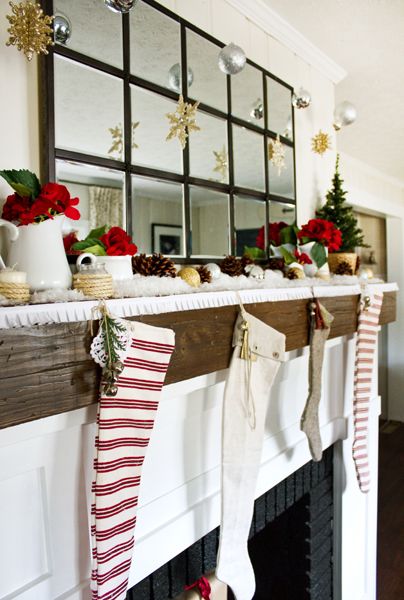 Do you have other suggestions on how to let the beautiful sunshine into a basement? Do you struggle with a dark and uninviting basement too? How have you cozied up a dark corner or room? We think these three ideas will make a world of a difference in the basement but we'd love to add some more!
Check out the rest of our basement posts!